Relations Between Contacts
Extra tree called Inter-Contact Relations serves for arranging contacts hierarchically to visualize relations between them. You can create up to 50 hierarchies of objects. Structures have names, which come from a lookup dictionary, you call up by clicking

button next to the list box.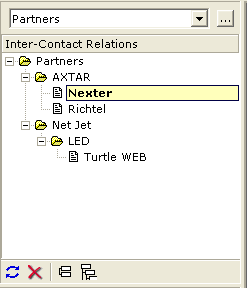 The Inter-Contact Relations tree is managed just like the Contacts Tree , the only difference being that here, before you start working on a desired structure, you have to choose its name yourself.
Each user assigns the filed he/she will be using as the name. To do that, right-click in the Inter-Contact Relations frame and from the context menu choose Select Field, then in the opened window choose the name you find the most convenient for yourself.