The Search form can be opened by either using the respective menu or by pressing Ctrl+F key combination on your keyboard, as well as by clicking the Search

button on the toolbar.
The search is performed both among the contacts and among bookmarks.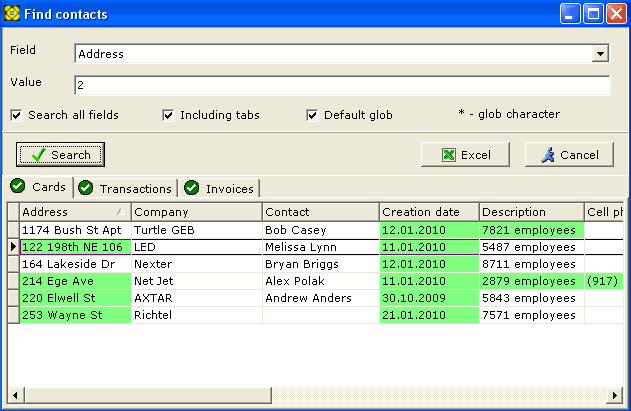 Enter the value you want to find in the search form.
If the Default Glob checkbox is checked, the glob mask is both prepended and appended to the entered search string.
To narrow the search results, uncheck the Search all fields checkbox, then pick the field you want to limit the search to from the Field dropdown list.
Found values are marked by green background. Clicking on a line in the search results moves the cursor to the record in the main table, and if the Contact's Business Card is open, the record is shown in the card.
The Search form remembers the last settings changed by the user, thus you can save the needed parameters at any time.
The Excel button can be optionally enabled.