A-Number CRM facilitates re-using Contact Business Cards' user-customized settings and content among users within the system. Since the appearance and functionality of the Contact Business Card may be fairly complex to reproduce after extensive customization, customized business-cards can be re-used by others as templates to avoid duplicate manual effort.
Templates facilitate building the layout of the Contact Business Card by the new users of a given database. Please note, that when a new user account is created in the system, his Contact Business Card and the main table will be empty until the Business Card layout is defined.
Choosing the Templates menu item opens Templates window containing the list of all the fields of the current database.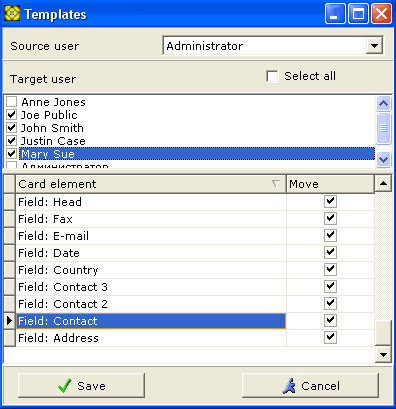 In the Templates window:
From the Source User dropdown list, choose the user, whose Contact Business Card settings you want to use as a template.
In the Target Users list below, checkmark the users to which the Source User's Contact Business Card settings you want to be applied to.
In the Card Element table, checkmark the Contact Business Card elements you want to be re-used by target users.
Clicking on Save button will commit the changes you have made.